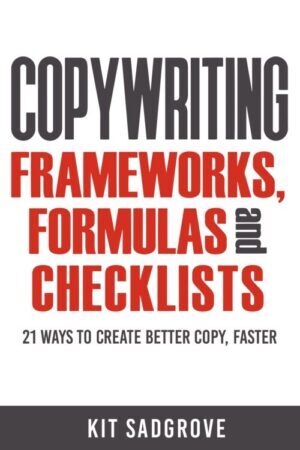 Description:
---
 Need to write copy? Stuck for a headline? Writer's block?
If you're not sure what to write, you'll take longer to produce it. And that reduces your income or productivity. More worryingly, you might create work that isn't effective.
So, how can you write great content – without spending all day on it?
The answer is: Copywriting Frameworks, Formulas and Checklists. It contains 56 systems for writing copy that's distinctive, memorable and on target.
Use the examples in this book, and your copy will always be right first time.
This book is for anyone who's needs to create persuasive content and is short on time. Whether you're an aspiring copywriter, an ad agency account director or a CMO, this is for you.
Kit Sadgrove has written copy for a huge variety of clients, and in most sectors, from financial services to FMCG and everything in between. He's worked for top-10 ad agencies and for much smaller ones. And he runs the world's best copywriting course at inst.org. So he speaks from practical experience.
Never be stuck for words. Whenever you need content, just reach for this book. It's bound to give you some ideas, just when you need inspiration.
Back